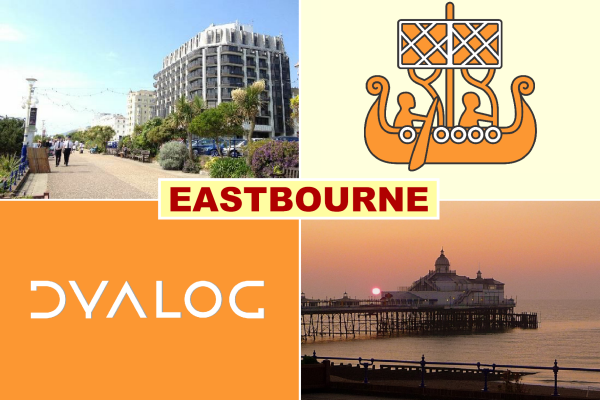 Welcome to the first of several postcards from Dyalog '14 in Eastbourne. The last Dyalog conference/user meeting held in the United Kingdom was at Horsley near Guildford back in 2003 and we're looking forward to holding it on what is, for a lot of us, home ground. Eastbourne is a resort on England's south coast known for its promenade and pier (of which more later!), its hotels, guest houses and, by no means least, its conference centres. As a bonus, we should see some decent seaside weather – we can't promise the Florida sunshine of Dyalog '13 but the UK is currently having a much better than average late summer; the weather forecasters say it should continue and that we're heading for one of the driest Septembers on record so let's hope they've got it right!

All but four Dyalog staff have come to Eastbourne. We're looking forward to sharing what we've been working on, listening to our users' presentations and meeting attendees old and new – this is set to be the biggest conference we have ever held with 126 registrations in total (two more than it says in the programme due to two last-minute registrations after we went to press!).
Coming Up…
The programme kicks off tomorrow with Technical Workshops all day followed by three and a half days of presentations by Dyalog staff, users and invited guests, finishing on Thursday afternoon with the remaining Technical Workshops. We'll report on some of the highlights of these presentations over the coming week. We're making recordings of all the presentations and some of the workshops, and will be putting them all up on the Dyalog website over the coming weeks.
We do, of course, also have our "Viking Challenge" on Wednesday as well as daily evening entertainment, culminating in the banquet on Wednesday night. Originally we had the dining suite at the end of Eastbourne Pier booked for the banquet, but, as you may have seen, Eastbourne Pier suffered a major fire at the end of July and is now closed for rebuilding. Fortunately we have been able to secure The Grand Hotel as an alternate venue, and all is back on track.
All in all we anticipate a very busy – but enjoyable and productive – week and hope to summarise the essence of it here; check back daily for reports of events!