Blog post from Arianna Locatelli's presentation on how she won the Dyalog APL programming contest 2015.
By Vibeke Ulmann #Dyalog15
Introduction
Now it it's 7th year, the annual Dyalog APL Programming Contest continues to attract a lot of interest. One of our favourite sessions at the Annual User Meeting, is when we get the opportunity to meet the winners, and hear how they won the Grand Prize.
Again this year we collaborated with SQORE/Studentcompetitions, and the contest had 2 phases.
Phase 1 had 10 'simple' one liner style problems
Phase 2 had low, medium and difficult problems.
This year we had 1786 registrants, 42 submissions for Phase 1 and 16 submissions for Phase 2. We had participants from all over the globe – perhaps with the exception of Antartica.
A deep felt THANK YOU goes to our sponsors: APL Italiana, Dyalog APL, Fiserv, and SimCorp, as well as a number of sponsors who prefer to remain anonymous.
The Winner
Arianna Locatelli is 17 years old and is currently a fourth year student in Liceo Classico S. M. Legnani, in Saronno, a little town near Milan. She was one of the students who took part in Roberto Minervini's Dyalog APL class at her school. Reference Blog post  How to Save an Italian School with APL.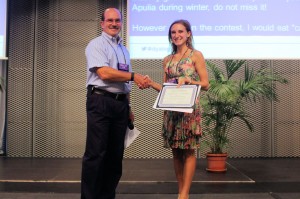 Arianna was presented with her winner Certificate by Walt Syzonenko from Fiserv
Despite the fact that Arianna's main interest is in humanistic subjects, especially Latin and ancient Greek, and despite the fact that informatics is not taught in her school, she took at keen interest in learning the Dyalog APL language – so much so – that when her teacher Roberto Minervini encouraged her to sign up for the 7th Programming Contest,  she took on the challenge.
"As a high School student I thought I had little chance of winning. I thought there would be an unbreachable gap between the humanistic subjects I favour, and Dyalog APL. But I discovered that abtract thinking and understanding, as well as discussing some of the problems in the contest with my fellow students made this a very interesting experience.I also found Bernard Legrands book Mastering Dyalog APL (http://www.dyalog.com/mastering-dyalog-apl.htm), as well as using the Internet very useful." Arianne said when she started her presentation.
She then processed to give a us  a truly fluent presentation, first presenting the logical solution to a problem then the APL implementation. It was particularly impressive to see how her thought processes led her to master some of the tasks with the highest degree of difficulty and complexity in Phase 2.
Asked about her favourite APL expression – without hesitation she said:  *Find*.
We all congratulate Arianne with her winning submission – which is particularly impressive considering her young age.  We hope that although it is her intention to study humanistic subjects, she will be able to find topics which will encourage her to continue to use the Dyalog APL language.