Based in Denver, Colorado, Nathan Rogers is a new member of the Dyalog team. In previous lives, Nathan spent six years as a member of the United States Armed Services as a Satellite Communications Operator, studied music theory and performance at the University of Northern Colorado, and built desktop and web applications across numerous languages and frameworks in a variety of domains.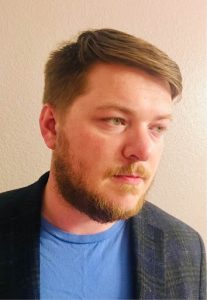 Nathan first came into contact with APL when discussing code obfuscation with other programmers, and a coworker mentioned K and APL. APL became an immediate obsession, and Nathan became a regular in the Stack Exchange chat room "The APL Orchard". He quickly began spending all of his free time learning APL, building familiar applications and tools using this quirky language, and reading about its fascinating history. He finds it funny in hindsight that he was introduced to the language in a conversation about code obfuscation, only to now be an APL evangelist, believing the concepts of APL to be as fundamental to elevating the world of computer programming as the Arabic numerals were to the study of Mathematics. After a year or so, Nathan was put in touch with Morten Kromberg at Dyalog. The two began pair-programming projects, which quickly proved fruitful and led to Nathan joining the team soon after.
When Nathan isn't working on consulting projects, or tools for Dyalog, you can typically find him behind his keyboard building his own tools and toy functions in APL, with two aims in mind: convert as many traditional programmers as possible to APL, and bring his knowledge and experience to bear on modernizing APL and its tools for the current and next generation of new programmers.