One of my favourite times of the year is the period in March/April where we traditionally start with a visit to the FinnAPL Forest Seminar followed by the APL Germany Spring Meeting. This year there are two new stops to make: the Swedish APL Group has started holding meetings twice a year too – and we are running the first Dyalog North America meeting in Princeton.
The FinnAPL meeting was a few weeks ago; this week we are wrapping up the rest in a whirlwind tour of no less than five one-way trips to get us to Princeton late on Saturday.
Day 1: Helsingør to Göteborg
We were off to a beautifully easy start on Monday evening, with the 20-minute ferry ride from Helsingør, where Gitte Christensen and I live, to Helsingborg in Sweden. From here it was 1 hour and 45 minutes by snabbtåg (train) to Göteborg, where we arrived just in time for a run at sundown, over the bridge across the Göta river, from which the second image was taken. Our hotel, the beautiful ship Barken, is on the right, and the conference venue, Läppstiften (the Lipstick), a very short walk away to the left.
Day 2: Göteborg to London
After a good night's rest we were welcomed on the 21st floor of the Lipstick by Lars Wenztel of Aplensia, our host for the day. Lars opened the meeting with a talk about the efficiency of using arrays to do product configuration and production planning at Volvo Car Corporation, which is also located just across the river from the meeting site. He mentioned how his team had been working to improve performance, and I would like to take that opportunity to remind you all to send us benchmarks that are representative of your most performance-critical application components so that we (Dyalog) can help you to speed things up.
I was up next with an updated Road Map presentation and demos of the new JSON parser and external workspaces (spoiler alert: Germans and North Americans will see something very similar later this week 🙂 ). The afternoon was full of interesting presentations on the use of APL, with Gert Møller from Genokey in Denmark as the last presenter. He brought the day to a close with his presentation of ongoing work on the application of array-based logic to the problem of reducing the cost, increasing the effectiveness of – and reducing the side-effects that patients are likely to experience when using – new drugs. And guess what…he mentioned that performance was important, too.
Tuesday was a wonderful day in the company of some very lively Swedish APL Users. It is wonderful to see how they have put APL to use in important production planning applications at some of Sweden's largest manufacturing operations, and the rapidly-growing bio-informatics sector was also well represented. We ended the day deciding to meet again on November 11th, with a target focus of web servers and services. Nearly everyone present had either experience of or plans to implement web-based solutions in APL; there will be code reviews and perhaps even have some hands-on coding sessions next time!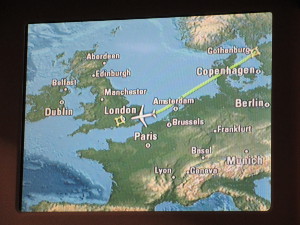 The original plan was to take the train and ferry again and have a night in our own beds, but an opportunity to interview two potential candidates for our current job opening had appeared and, since it would be 2-3 weeks before we were back in the UK, we decide to grasp it. One of the benefits of having a large collection of air miles is that you can spend them on last-minute one-way trips that would otherwise cost a fortune. So instead of hopping on the train, we found ourselves on the airport bus and then a BA flight to Heathrow.
To be continued…