Welcome to the 2012 Summer edition of DYALOGue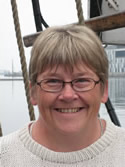 I am delighted to start with the announcement that Pat Buteux has joined Dyalog Ltd as VP of Sales & Marketing US. We're incredibly pleased to have Pat join the Dyalog team and we're looking forward to working with her on expanding Dyalog's market in the US. You can read more about Pat later.
As always this time of the year we have been working to get the abstracts and the registration system for the User Conference ready; we're there now and I urge you to take advantage of the Early Bird discount and register now.
In the last issue of DYALOGue we introduced TryAPL.org – the site created to allow anyone with a web browser to begin to explore APL. TryAPL has proven to be incredibly popular. We were staggered (and the server too for a short while) and well pleased, when over one weekend we had more than 8,000 visiting the site. If you haven't yet checked it out please do.
We have been busy rolling out WorldPay for the Dyalog website and it can now be used to pay for Personal Non-commercial and Pocket APL licences. The system is also in place for the conference registration system for Dyalog '12, although you can also chose to ask for an invoice which you can pay directly to us.
As I write this, Morten and I are on our way to another touring visit in the USA. Among other things we will run an APL seminar in Virginia. In the end of July and beginning of August we're taking a much needed vacation. Sailing on the good ship Anna-Elise is our favourite way of recharging the batteries and we have now started to implore the Weather Gods to change the modus operandi from 'wet windy green winter' to 'hot sunny summer', so we can enjoy going from harbour to harbour in Denmark. After that I already know what MY time will be spent doing. As you can see from Dyalog on the Road we have Iverson College coming up in the UK in September, and then Dyalog '12 is obviously the next big agenda item. We are already much looking forward to seeing many of you in Elsinore in October.
Wishing you all an enjoyable summer wherever you are and I hope you enjoy your reading.
Gitte Christensen