Welcome to DYALOGue Summer 2010 & Dyalog Highlights for APL2010 in Berlin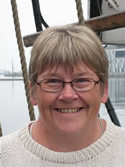 Only 2 weeks to go. We are so much looking forward to seeing many of you in Berlin for the APL2010 Conference!
This year's Global conference is a great opportunity for all Array language enthusiasts to meet and discuss where APL is going in the next 5-10 years. I am personally looking forward to some of the presentations from well known APL 'celebrities' such as:
Dr. James (Jim) A. Brown, CEO of Smart Arrays, who will present APL and its Influence on Modern Computing.
Robert (Bob) Bernecky, from Snake Island Research who will revisit Mask and Mesh.
Wai-Mee Ching, Da Zheng (Zhejiang Normal University, Jinhua, Zhejiang, China and Johns Hopkins University, Baltimore, Maryland, USA). Wei-Mee will highlight Benefits and Limitations of Array-style Programs for Parallel Execution.
I have no doubt that the conference will give us all a lot of 'food for thought'.
You will probably forgive me for being particularly excited about the Dyalog presentations at APL2010. We have many new things on the agenda this year, and I would like to take the opportunity to highlight a few things on the programme, which you may want to attend.
Monday 13 September 15:30 – 16:30:
APL# – An APL for Microsoft.NET, Mono, SilverLight and MoonLight. This is a reviewed paper presentation. APL# is a brand new APL, and we're very much looking forward to presenting the concept, have a discussion and hopefully get a lot of feed back. This presentation will be held by Morten Kromberg, Jonathan Manktelow and John Scholes.
Tuesday 14 September 09:00 – 10:00:
Taking APL for a RIDE – presenting the Dyalog Remote Integrated Development Environment, a new graphical development environment for all versions of Dyalog APL and on all platforms from Windows Mobile to the largest AIX mainframes. John Daintree will chauffeur the RIDE presentation.
Tuesday 14 September 16:45 – 17:45:
An interpreter for Vanilla Siteswap – Jay Foad is the newest arrival at Dyalog and he will present his VS/APL Interpreter.
We have also introduced new Workshops and Tutorials on the α la carte menu this year. You may want to attend some of the following:
Monday 13 September 14:30 – 16:30:
Workshop: APL and Web Services – Brian Becker of Blue Dolphin Solution will conduct this workshop which aims to present a brief overview of Web Services and their underlying protocols. Learn how to call third party Web Services to use their results in an APL application. Develop a simple web service using SAWS which can be invoked from SAWS, a web browser, or other client. A non-commercial licence copy of Dyalog APL 12.1 will be provided for those who need it.
Wednesday 15 September 09:00 – 11:00:
Workshop: Windows Presentation Foundation – Windows Presentation Foundation is a graphical subsystem for rendering user interfaces, originally developed for desktop applications built using the Microsoft.NET platform – but now also available for web and mobile applications under Windows, Linux, on the Apple Macintosh – and coming to mobile platforms. The workshop will demonstrate how WPF can be used from Dyalog APL and APL# to create desktop and web applications. Participants will leave the workshop with a working WPF application that can be used as a basis for further work with WPF.
Tuesday 14 September 14:30 – 16:30:
Tutorial: User Commands in Dyalog APL – Dyalog introduced User Commands with version 12.1. Dan Baronet will show us how to create, debug and modify user commands and how to manage them.
If you haven't already registered for APL2010 please hurry and do it now.
Remember – Students can attend the APL2010 conference for free!!
Enjoy your reading and hope to see you in Berlin!
Gitte Christensen