Girl Friday goes Full Circle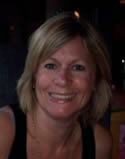 As is often the case with people involved in APL, life moves in mysterious ways. This is also the case for Karen Shaw whom many of you will know from the good old Dyadic days.
Karen originally wanted to study medicine and dreamed of becoming a surgeon, she even managed to get herself into a Hospital Careers Course – but Chemistry got the better of her, so she decided that medicine probably wasn't the right career move after all.
Luckily she then got a job at a the laboratory of a fragrance manufacturer – no, not to experiment with fragrances – rather she got involved with setting up two Apple Macs to run a very basic stock control system, and as she is fond of saying – "2 Apple Macs and I was hooked".
Karen married Pete in 1985 and then landed a job as a Systems Administrator at paper manufacturer Wiggins Teape where she was involved in testing & rolling out a new DEC Alpha system to the Overseas Sales team as well as providing systems support to the new users.
After having giving birth to Jo (Joanna) in 1989 Karen worked part time until Jo was 3 but realizing that she wasn't really cut out to be a staying at home mum she decided to go back into full time work.
Karen says, "I accepted a job at Dyadic Systems as a Girl Friday. The role was not clear cut and hence I did everything from make the tea to typing invoices using a homemade word processor written in VIA. Over the next 11 years the role evolved and I ended up spending more time working on the IBM reseller side of the business with Andy Shiers and Pauline Brand. When that part of the business was sold to Syan, I went with it and was given the chance to develop my management skills, attending training courses and being mentored by an excellent manager.
"Then, Andy decided to come back to the Dyalog family and I chauffeured him to the Dyalog Christmas do for a drink where Gitte and I had a very light hearted conversation about how I would be next as Dyalog needed an administrator. Over the next 9 months the conversations became more and more serious and suddenly here I am, coming full circle and really excited about my future at Dyalog. I am looking forward to re-acquainting myself with many customers, colleagues & friends from the past and have already had many lovely messages welcoming me back to the fold!"
We at Dyalog are extremely happy that Karen has decided to join the team once more and we can already see her influence in the office, amongst other things, the famed Duck Collection has come home to roost. We're very much looking forward to benefitting from Karen's experience and management skills as Dyalog continues to grow.
On a more personal note, Karen is still married to Pete, celebrating their 25th anniversary next year, Jo is now 20 and about to leave home and set up her own nest with boyfriend Rob. Holidays are often taken in Greece, and just a word of warning; Karen is a keen pool player – so watch out at the next conference.