May We Introduce Jay Foad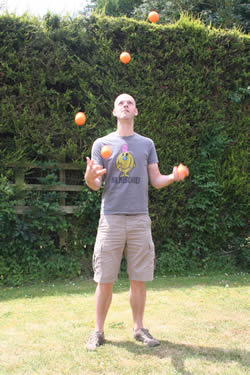 Jay started as Software Developer with Dyalog on April 26th, 2010 and we're delighted to welcome him as a member of the Dyalog Team.
Jay brings in-depth experience having worked with software development for many years. He joins us from a position as Senior Developer at Antix Labs – mostly working with the deployment of C and C++ games on mobile handsets, with just-in-time translation to native code on the device. He also implemented a runtime environment for gaming on Google's Android operating system.
Prior to that, Jay spent 10 years as a Senior Developer at Tao Group. Tao developed an embedded operating system based on a virtual machine (VP) with just-in-time compilers to translate VP byte-code to machine code on the target device. During his time there Jay worked on many projects, such as:
Maintaining and developing Tao's Java JIT compiler.
Porting Tao's JIT native code generator to many platforms and CPUs including ARM THUMB, ARM VFP, Intel XScale, SH-2/3/4 (including floating point), MIPS (including 64-bit and floating point variants), ARC, M68000, ColdFire, MCore and TOPS DP1000.
Working on all aspects of the C/C++ toolchain including an in-house port of GCC and the GNU standard C++ library, various assemblers and disassemblers, CPU simulators, optimised native library functions, and remote debugging functionality for embedded target platforms.
Jay has a B.A. (First Class) in Computer Science from Trinity College, Cambridge.
About joining Dyalog Jay says "Dyalog is a really dynamic company with a close knit team. I really enjoy being part of it. The product is impressive and an awesome development tool.
In the short term I am focusing on fixing bugs and learning APL more in depth. More long term I expect to be working on the compiler. The aim is of course to make APL go FAST(er). Hence looking at whatever it takes to make APL programs run fast and efficiently. There has been a lot of progress in the last decade or so in making trendy new interpreted languages like Javascript run fast. I don't see why the same techniques can't be applied to APL".
On the private front Jay is about to marry the lovely Tania, on the weekend after the APL conference in Berlin! We think we know who is in charge of the wedding plans on account of this.
Jay is a keen cyclist, and he's prone to juggling (many!) orange balls in the office to de-stress. Outside of that he enjoys running the occasional half marathon.