May we introduce Adám Brudzewsky – the newest member of the Dyalog Tools Group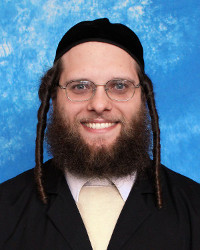 Adám grew up in multiple countries and speaks multiple languages, and he has a slightly unusual background for coming into the APL world.
His father was a really good APLer and brought him up in the conviction that APL is by far the world's most superior programming language, and the only one worthy of being used day-to-day.
As a student at Österänggymnasiet (secondary school) in Sweden, he excelled in mathematics, but eventually wrote a long essay on the disadvantages of traditional mathematical notation vs APL.
He went on to study philosophy at Lund University, Sweden, and in 2003 joined the hippie-turned-New Age community Esalen Institute in California, working in the Housekeeping and Kitchen Departments.
After this, Adám worked as secretary assistant at Congregation Beth Sholom, California, before taking a BA in Rabbinical Studies at Kol Yaakov Torah Center, New York. Parallel to his studies, he used APL to help the administration harmonise donation records. On completing his BA he moved to Canada, working as secretary for a religious community and later as administrative assistant for a charity, both in Quebec. He found the charity's databases to be in great disarray, but with APL's help chaos became order.
In May 2015 he joined the Dyalog family as a Software Developer working in the Tools group – applying his knowledge of APL to make templates and samples for users to study and to apply in applications.
"What attracted me – and still attracts me (!) to Dyalog APL, is the fact that Dyalog Ltd is a modern but mature APL vendor that is small and flexible enough to be forward thinking and embrace new technologies. The Dyalog APL language is truly multi-paradigm and cross-platform. And there is a constant refinement of the language" Adám says. He continues, "It's so great working at Dyalog because the company is still of a size where every individual's voice can be heard. There is also a culture where we're encouraged to contribute with thoughts and ideas – and our contributions have a real tangible impact on the end product. That gives encouragement, motivation, and huge job satisfaction. It's a collection of amazing people, all of whom are engaging and stimulating to work with. The company also has flexibility and sensitivity, which I need as I have special requirements as an orthodox Jew."
Outside software programming – which we all know is a lifestyle in its own right – he is the father of two boys. He loves spending whatever time is left diving further into science, technology, and philosophy.