On Friday 15 October, the SERV S&L was presented with The Queen's Award for Voluntary Service by the Lord Lieutenant of Surrey. Geoff Streeter was one of 20 volunteer SERV S&L members who attended.
What Is SERV S&L?
SERV S&L (Service by Emergency Rider Volunteers for Surrey and London) are a charity organisation, made up entirely of volunteers, comprising motorbike riders, car drivers, controllers, and fundraisers. They transport blood products, urgent samples, medical supplies, and donated breast milk to hospitals and milk banks across Surrey & London, as well as carrying out a daily delivery of blood to the Air Ambulance service that covers Kent, Surrey, and Sussex. They support the regular delivery rounds that the NHSBT (National Health Service Blood and Transport) have in place; unlike the NHSBT, SERV S&L also operate throughout the night. All of this is provided free of charge to the NHS, releasing more money for patient care.
What Is The Queen's Award for Voluntary Service?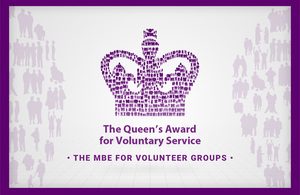 QAVS (The Queen's Award for Voluntary Service) celebrates the outstanding work of local volunteer groups across the UK. Created in 2002 for Queen Elizabeth II's Golden Jubilee, QAVS awards shine a light on the fantastic work of voluntary groups. QAVS awards are the highest awards given to local voluntary groups in the U.K. (they are the equivalent of a personal MBE) and they are awarded for life.
Geoff's Involvement with SERV S&L
A Personal Recollection
At the end of 1980, Paul McCann had a relation who could not get an urgent sample transported to the testing lab until the next morning. He was frustrated by this and organised a meeting to see what could be done, the result of which was that a group of advanced motor cycle trainers from a (now defunct) group called Star Rider decided to try to run a delivery service for blood/samples at night. I was not at that meeting but I heard about it from a fellow member of the Laverda Owners group; I made it to the second meeting (on 8 December 1980) and have been involved ever since. We obtained a room with a couple of bunks in a wooden building owned by MEFAS (Malden Emergency First Aid Society) and a telephone line, and started operating in early 1981.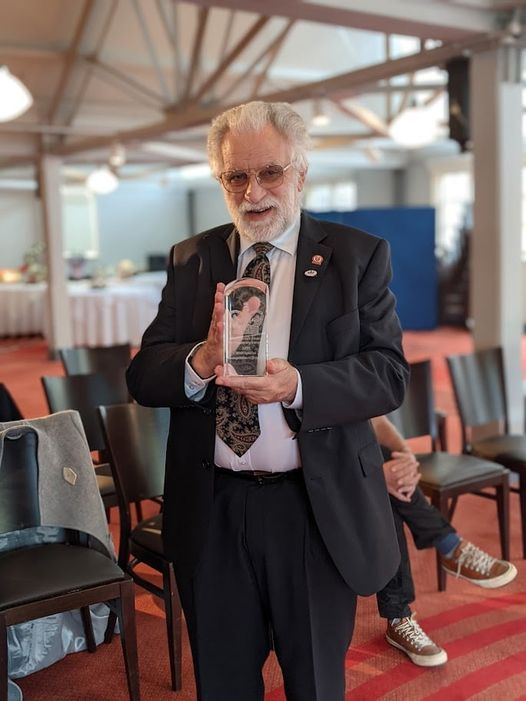 The main distribution point for blood is located in Tooting and serves London, Kent, Surrey and Sussex (we have partner organisations in Kent, Sussex and Wessex). We do a main nightly run with typically 6 to 10 boxes down to an arranged change point for Kent and Sussex. We also partner with similar organisations across the U.K., and have occasional relay runs, for example, from Edinburgh to central London (I think that's the longest that we've been involved in). More common are runs from Bristol. We typically shift 20 boxes a night and samples in the other direction and have about 8 riders/drivers on shift every night.
Financially, we get support from some Masonic Lodges and business groups. They prefer to buy bikes for us, and Citroen have given us a car (DS3) on permanent loan. We are in the process of acquiring/refurbishing a scout facility in Sutton to provide a base for the bikes/cars/van as well as for volunteers who live on the periphery of the area. We also raise funds by box waving outside supermarkets, garden centres, Brooklands, Waterloo Station, etc.
I started with the group as a biker, and used my Laverda 750, Laverda 1200 and Honda 650 Turbo to deliver blood and samples from 1981 until 1990, when I switched to car deliveries (which I continued to do until last year). I also acted as Treasurer from 2006 until 2010. I have been one of the controllers right from the start [Ed.: Controllers orchestrate the logistics of a shift; hospitals and partner groups place their orders and riders and drivers are dispatched as required – accurate scheduling and data logging are required to ensure efficient co-ordination and communication so that each run can be completed reliably], a role that has changed a lot over the last 40 years. In the early days controllers needed to be physically present with the one rider and the telephone. Then we moved to using pagers (but still needed to be present in the hut/sports centre) before everything changed with the advent of mobile phones – I now control from home. The expectation is that volunteers do one night a fortnight, but a shortage of volunteers relative to growing demand means that for a few years now I have been doing at least one shift a week.
Final Word
Congratulations Geoff, 40 years of volunteering for such a worthy cause is a fantastic achievement. All of us at Dyalog Ltd are really proud of your contribution.
To find out more about the amazing service provided by SERV S&L, including how to make a donation, visit https://servsl.org.uk/.