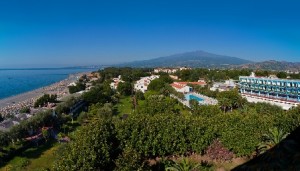 After many months of planning and preparation it was finally time to head from the UK to Sicily for Dyalog '15. Sun, sea and an excellent conference facility were awaiting us at the Atahotel Naxos Beach in Giardini Naxos and this year, because it would be very hot, we had decided to forgo the traditional Viking Challenge team activity for a more relaxed excursion by coach to see the craters at the top of Mount Etna – Europe's largest active volcano.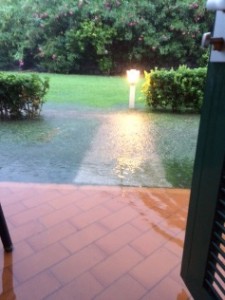 Dyalog '15 kicked off on Sunday morning and by Tuesday everything was going to plan and we were stubbornly ignoring the forecast for storms and rain on Wednesday – after all, the forecasters always over-exaggerate don't they?
In this case it seems not as we woke up Wednesday morning to torrential rain and had to wade from our rooms (sometime through water up to our knees) to the conference centre.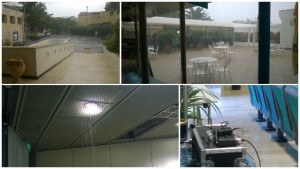 There we were greeted by more floods and rain only this time it was inside the main conference room and perilously close to the desk with all our AV equipment on it. Time for an emergency change of room but where do you fit 80+ people at short notice? A room was found, the projectors and microphones were set up ready for the start of the day – and we were only 15 minutes behind schedule! OK, so maybe it was a tight squeeze but by then everyone was bonding over flood stories and determined not to beaten by a "bit of weather".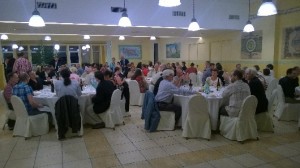 Just when we thought it couldn't get worse, we then found out that the beautiful seaside terrace restaurant, where the Dyalog '15 banquet was due to take place that evening, was also flooded so Banquet Plan C (Banquet Plan B was also under water) was implemented and the whole event moved indoors – not such a stunning location but at least we would all be dry.
During the morning the rain eased off, the floods subsided and our planned excursion to Etna during the afternoon was looking more and more likely. We finally got the go ahead and 69 brave souls set off after lunch to battle with the elements, optimistically hoping the weather would improve as the afternoon went on. However, once we reached 1900m we were greeted by yet more torrential rain and a pretty bad thunderstorm. Were we deterred? Oh no, we just headed off into the storm to stomp around the Silvestri Craters for a bit – although one delegate did, rather hysterically, point out that it probably wasn't very sensible to be waving an umbrella around in a thunderstorm at that height. Eventually a very wet, cold and bedraggled bunch got back on the coaches but we all survived the adventure, made it back to the hotel and most agreed we had had a lot of fun!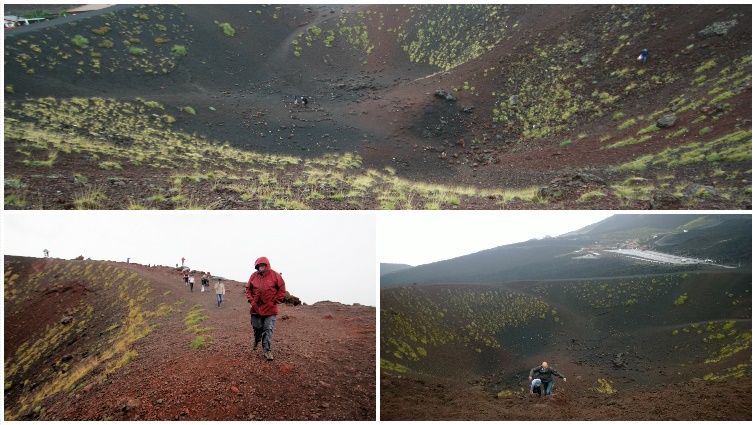 And the moral of the story? It was beautifully summed up by Gitte Christensen in her closing speech: "If you don't have a Viking Challenge at a Dyalog User Meeting then one will be provided for you!"